---
History
Aboriginal Malays (Orang Asli) began moving down the Malay peninsula from southwestern China about 10,000 years ago. The peninsula came under the rule of the Cambodian-based Funan, the Sumatran-based Srivijaya and the Java-based Majapahit empires, before the Chinese arrived in Melaka in 1405. Islam arrived in Melaka at about the same time and spread rapidly. Melaka's wealth soon attracted European powers, and the Portuguese took control in 1511, followed by the Dutch in 1641. The British established a thriving port in Penang in 1786 and took over Melaka in 1795.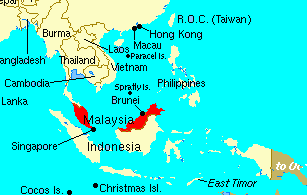 The British colonized the interior of the peninsula when tin was discovered. East Malaysia came into British hands via the adventurer Charles Brooke (who was made Rajah of Sarawak in 1841 after suppressing a revolt against the Sultan of Brunei) and the North Borneo Company (which administered Sabah from 1882). Britain took formal control of both Sabah and Sarawak after WW II. The indigenous labor supply was insufficient for the needs of the developing rubber and tin industries, so the British brought large numbers of Indians into the country, altering the peninsula's racial mix.
The Japanese overran Malaya in WW II. Communist guerrillas, who fought the Japanese throughout the occupation, began an armed struggle against British rule in 1948 and Malaya achieved independence in 1957. Sabah, Sarawak and Singapore combined with Malaya to establish Malaysia in 1963, but two years later Singapore withdrew from the confederation. The formation of Malaysia was opposed by both the Philippines and Indonesia, each having territorial claims on East Malaysia. Tension rose in 1963 during the `Confrontation' with Indonesia. Indonesian troops crossed Malaysia's borders but were repelled by Malaysian and Commonwealth forces. In 1969, violent riots broke out between Malays and Chinese, though the country's racial groups have since lived in relative peace together. The United Malays National Organisation (UMNO) has been in power since 1974, and prime minister Dr. Mahathir Mohamad, who is keen to exert his influence on the world stage as a pan-Asian leader, presided over a booming economy until 1997, when tumbling Asian currencies dragged the ringgit down with them.
In September, 1998 the country hosted the Commonwealth Games but the public relations aspect of the competition came unstuck when students and citizens protested against the unfair sacking and later imprisonment of deputy Prime Minister, Anwar Ibrahim. Continuing street protests,calling for the resignation of Dr Mahathir Mohamad, have unsettled Malaysia's reputation as one of the most politically stable of southeast Asian countries.

Facts
Full country name: State of Malaysia
Area: 329,750 square kilometers
Population: 19.7 million (growth rate 2.3%)
Capital city: Kuala Lumpur (population 1.2 million)
People: 50% Malay, 33% Chinese, 9% Indian, plus indigenous tribes such as Orang Asli and Iban
Language: Bahasa Malaysia, English, Chinese dialects, Tamil, indigenous dialects
Religion: 52% Muslim, 17% Buddhist, 12% Taoist, 8% Christian, 8% Hindu, 2% tribal
Government: Parliamentary monarchy
Head of state: Tuanku Salehuddin Abdul Aziz Shah ibni al-Marhum Hisamuddin Alam Shah
Prime Minister: Dr. Mahathir Mohamad
Gross Domestic Product: US$171 billion
World GDP ranking: 39th
GDP per capita: US$8,950
Annual growth: 2%
Inflation: 4%
Major products/industries: Tin, rubber, palm oil, timber, oil, textiles, electronics
Major trading partners: Singapore, Japan, USA
Malaysia is one of the most pleasant, hassle-free countries to visit in southeast Asia. Several decades of sustained economic growth and political stability have made it one of the most buoyant and wealthy countries in the region, and although political power (Malay) and economic clout (Chinese) are still traditionally divided along racial lines, Malaysia has moved towards a pluralist culture based on a vibrant and interesting fusion of Malay, Chinese, Indian and indigenous cultures and customs.
Malaysia covers 329,750 square kilometers and has a population of 22 million people, half of whom are ethnic
Malays. Ethnic Chinese account for about a third of the total population. Almost everyone in the country speaks Bahasa Malaysia. Many also speak Chinese dialects and English.
Malaysia's major industries are based on tin, rubber, palm oil, timber, oil and textiles. The electronics industry is considered to be up-and-coming, with the current electronic and computer players setting up manufacturing bases to take advantage of the country's recovering currency. Singapore, Japan and the United States are considered Malaysia's strongest trading partners. The capital city of Malaysia is Kuala Lumpur, which has a population of 1.2 million people. It is home to the Malaysia SuperCorridor, a fully-wired business park constructed to attract international investment in high-tech ventures. Many expatriates working in Hong Kong, Japan and Singapore consider Malaysia their vacation destination of choice. It is reasonably priced, friendly and its beaches rival those of Thailand for comfort and beauty. During Christmas, the New Year and other popular vacations, beaches host full-moon raves that feature imported DJs from Hong Kong or London spinning discs from sundown till sun up.
People seeking adventure set their sights on Sarawak in North Borneo. The province features precious areas of untouched jungle and the opportunity to meet people of the Dayak tribes, an indigenous population that continues to live in traditional longhouses. Close to Kuching, the province's capital city, perch remote coastal villages such as Pandan and Sematan, as well as Bako National Park, with its untouched tropical beaches and walking trails through the rainforests. Inside Sarawak's Niah Caves, accessible only by longboat and foot, are rock paintings, wildlife and amazing luminous mushrooms visible only by night.
There is an incredible range of activities in Malaysia to suit any taste and ability. Divers and snorkelers will find several of the east-coast islands to their liking, including Tioman and the Perhentian Islands. Cycling, trekking, fishing, canoeing and bird watching are all available for the asking. The Pulau Tiga National Park off Kuala Penyuh in Sabah offers excellent walking trails across the volcanic island as well as several idyllic snorkeling spots and, of course, Mount Kinabalu is said to be one of the easiest mountains in the world to climb.
---
1999/2000/2001
©Allright Reserved by
Mohd Hafiz Yahaya